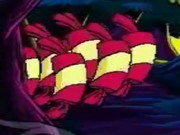 The Sweet Troops are a group of candy guards in Pajama Sam 3: You Are What You Eat from Your Head to Your Feet. They are members of S.S.A.M.
Background
When Pajama Sam and Florette escapes from Jail, the sweet troops can be seen marching around the area, on the lookout for any opponents. Sam and Florette were able to narrowly avoid being seen by the troops by hiding in a bush. Florette sneaks her way to the Food Pyramid while the troops weren't looking. After Sam meets Carrot and General Beetfoot, they no longer guard the area to the mountains, allowing Sam to continue forward and find the missing Peace Delegates.
Trivia
Every time Pajama Sam visits Carrot and General Beetfoot, the sweet troops disappear, but every time he doesn't, they're still around as they don't leave or go away.