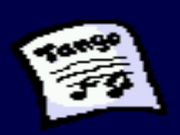 Tango Music Sheet is an item from SPY Fox in "Dry Cereal".
In all storylines, Johnny Gecko will be playing music from this music sheet at the Greek Cantina.
In the Car Chase storyline, SPY Fox will need a copy of tango music as part of his plan to get Walter Wireless into Russian Blue's purse, however Johnny can't do this for the moment as the tango is the only music he has. After SPY Fox gives Johnny a Waltz Music Sheet (taken from the music stand belonging to the S.S. Deadweight's conductor), Johnny will give him some tango music.
SPY Fox must then secretly place this music sheet on the conductor's music stand while he isn't looking, which will cause him to play a tango instead of a waltz. Upon hearing the music, Blue gets put into a trance and begins to dance with SPY Fox. SPY Fox must then put Walter into her purse before the dance ends. If SPY Fox misses the opportunity, he will need to secretly put the tango music sheet on the stand back on the left in order to get another opportunity to put Walter into Russian Blue's purse.
Community content is available under
CC-BY-SA
unless otherwise noted.