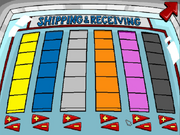 Shipping and Receiving Computer is a mini-game in Pajama Sam 2: Thunder and Lightning Aren't So Frightening.
This computer is used for stacking the boxes in the basement of the warehouse and sure comes in handy when Sam needs to use those boxes to rescue Velocimomometer.  
The columns indicate how the boxes are currently stacked. Click on the plus or minus signs at the bottom of each stack to add or remove boxes from each column.
To see your handiwork take the elevator down to the basement.  You can do this just for fun but you may need to create a specific pattern for Sam to use.  Take the elevator back to the mail room to re-stack the boxes as often as you like or until you get it right.
Click the arrow in the upper corner to return to the game.
Trivia
The main theme plays when you play it.
Community content is available under
CC-BY-SA
unless otherwise noted.