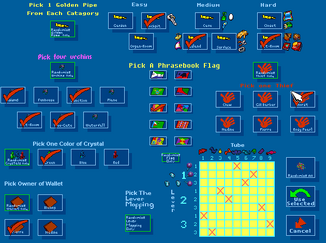 When run with ScummVM, most Humongous games have debuggers that allow players to change the room, items they have, and path the game is set to. To access a debugger, press Ctrl-D and type in "Room x", the x being the debugger you want to enter corresponding to the game you are playing. The first five Junior Adventures (
Putt-Putt Joins the Parade
,
Fatty Bear's Birthday Surprise
,
Putt-Putt Goes to the Moon
,
Freddi Fish and the Case of the Missing Kelp Seeds
, and
Putt-Putt Saves the Zoo
) don't have debuggers, and the last two (
Pajama Sam Life Is Rough When You Lose Your Stuff
and
Putt-Putt: Pep's Birthday Surprise
) don't run in ScummVM. Each of the other 13 games has a different set of debuggers. The following is a list of HE games that have been tested and the results.
(*) Path Debug room must be opened after the HE logo shows, when in the first room of the game, such as Sam's room.
These can also be entered through the standalone games as well by editing hegames.ini.
Putt-Putt Series
Edit
Putt-Putt Travels Through Time*
Edit
Room 53: Rooms
Room 54: Items
Room 55: Paths
Putt-Putt Enters the Race*
Edit
Room 15: Rooms
Room 28: Items and Paths
Putt-Putt Joins the Circus
Edit
Room 6: Rooms
Room 38: Items
Freddi Fish Series
Edit
Freddi Fish 2: The Case of the Haunted Schoolhouse
Edit
Freddi Fish 3: The Case of the Stolen Conch Shell
Edit
Room 42: Rooms
Room 43: Items
Room 44: Paths
Freddi Fish 4: The Case of the Hogfish Rustlers of Briny Gulch
Edit
Room 48: Rooms
Room 3: Items
Room 49: Paths
Freddi Fish 5: The Case of the Creature of Coral Cove
Edit
Room 11: Rooms
Room 3: Items
Room 39: Paths
Pajama Sam Series
Edit
Pajama Sam 1: No Need to Hide When it's Dark Outside
Edit
Room 59: Rooms
Room 60: Items
Room 61: Paths
Pajama Sam 2: Thunder and Lightning Aren't so Frightening
Edit
Room 45: Rooms
Room 2: Items
Room 46: Paths
Pajama Sam 3: You are What you Eat from your Head to your Feet
Edit
Room 39: Rooms
Room 24: Items and Paths
SPY Fox Series
Edit
SPY Fox: Dry Cereal
Edit
Room 24: Rooms
Room 14: Items
Room 27: Paths
SPY Fox: Some Assembly Required
Edit
Room 41: Rooms
Room 4: Items
Room 46: Paths
SPY Fox: Operation Ozone
Edit
Room 47: Rooms
Room 7: Items
Room 43: Paths