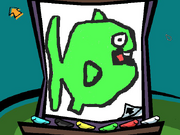 Paper on Easel is a mini-game in SPY Fox in "Dry Cereal". It can be played in William the Kid's office in his fortress.
This mini-game can be played in all versions of the game, but it is only important to play this game in the Punch Card storyline.
In the Punch Card storyline, William the Kid takes a paper from this easel and instructs Russian Blue to destroy it since it contains the punch card's location. Once SPY Fox gets to the easel, he must use the chalk on the easel's paper to reveal where William the Kid hid the punch card. The paper will reveal which painting the punch cards are hidden behind in the secret entrance office and the color code that SPY Fox must input next to the painting in order to reveal the safe containing the punch cards, as William the Kid was apparently too rough with the chalk.
Community content is available under
CC-BY-SA
unless otherwise noted.