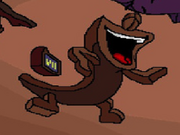 The Coffee Table is one of the characters in Pajama Sam in "No Need To Hide When It's Dark Outside". He is one of the dancing furniture objects.
In all games, the coffee table will be shown dancing inside Darkness's living room and will remaining dancing while Sam has not actually entered the living room. When Sam does enter all the furniture jump back into their proper places and remain stationary.
Sam can examine the digital clock on the coffee table to check the time at any point in this game, but this is only necessary to do if Sam needs to make the time on Grandfather Clock's face the same as the current time in the Secret Mines storyline.
Community content is available under
CC-BY-SA
unless otherwise noted.