The Cartown Zoo is located a short drive away from Cartown.
Appearance
Edit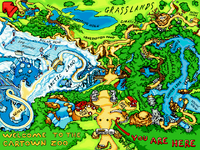 The zoo is divided into four parts; the Zoo Lobby, Arcticland, Grasslands, and Jungleland. Each location has a different theme. The Zoo Lobby acts as the zoo's main entrance as well as a place for visitors to relax and enjoy their stay. In Arcticland, guests will find a chilly environment fit for penguins and seals. The Grasslands consist of wide, open plains. It's inhabitants are all animals from Africa (except for the Indian peafowls by the watering hole). Jungleland is just what it's name implies. It is a dense jungle with winding paths and foaming waterfalls. Monkeys are a common sight in Jungleland.
The Grand Opening of the Cartown Zoo begins at this game. When Putt-Putt goes inside to deliver some Zoo Chow to Outback Al before the zoo opens, he discovers from Outback Al that besides getting the zoo ready for the grand opening, there are several problems that he must attend to, which includes missing baby animals. Putt-Putt volunteers to find the missing animals while Outback Al gets the zoo ready and Outback Al gives Putt-Putt a list of all the missing animals before he leaves to attend to other matters.
After Putt-Putt saves all the animals and reveals this to Outback Al, the latter proceeds to get the Grand Opening of the Zoo underway and awards Putt-Putt with a Junior Zoo Keeper award for his efforts at helping him save the zoo. Putt-Putt then cuts the ribbon (which Outback Al gave him the honor to do) as the last touch to declare the zoo open before the citizens go inside the zoo.
Inhabitants
Edit
Penguins
Seals
Polar Bears
Elephants
Giraffes
Lions
Storks
Zebras
Rhinoceroses
Cheetahs
Gazelles
Flamingos
Wildebeests
Peafowl
Ostriches
Alligators
Monkeys
Snakes
Hippos
Toucans
Sloths
Chameleons
The only animals that the zoo doesn't allow in the Grasslands are mice, although one is seen.st