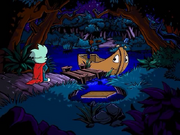 The Boat Docks is a location in Pajama Sam in "No Need To Hide When It's Dark Outside".
The boat docks are where Sam first meets Otto, who refuses to go into the water for fear he will sink. After Sam demonstrates that wood can float, using a wooden board, Otto goes onto the water to try to conquer his fear and succeeds. From this point onward, Otto will awaits for Sam at the edge of the pier when he needs to travel around the Land of Darkness by boat.
Community content is available under
CC-BY-SA
unless otherwise noted.