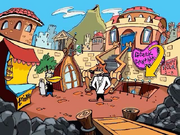 Acidophilus is a Greek Island in SPY Fox in "Dry Cereal" and is the main setting of that game. There is a Trinkets store, a Greek Cantina, a ship called the S.S. Deadweight and much more.
Places
Greek Cantina
Run by Bea Bear, the cantina is a popular part of the island. Inside, music is played by Johnny Gecko. Mr. Big Pig, an avid go fish champion can be found inside. The cantina hosts a happy hour and has a 'special of the day'.
S.S. Deadweight
The S.S. Deadweight is a ship that is docked in the harbor. An invitation only party is being hosted onboard, where Russian Blue can be found as a guest.
Trinket shop
Gilbert, a rabbit, sells various knick-knacks, ranging from pennants to stuffed animals.
Spy Centre
Hidden underneath the town square is the Spycore Mobile Command Centre. It is built into a ship, the same ship that the tip makes the phone booth.
Mayor's house
The mayors house is a front for the N.O.G, with a secret entrance inside the couch.
N.O.G Feta Factory
The N.O.G organisation store and produce their cheese on the island in this factory. They use the factory to keep Mr. Udderly prisoner. Inside is a conveyor belt, crates and a piranha tank.